Nice Day
Today is just too nice…going to have to try the Meadow soon!
Hope there is a hatch coming off!
UPDATE: Didn't catch any fish, but did meet three visitors. Ethan, Murry & Charles.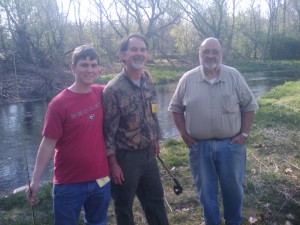 Turns out, Murray just wrote a book…Growing Up In Grace…and he gave me a signed copy!  I'm looking forward to reading it…on those not-so-nice days when you can't fish because of the driving rain.
No fish, but met three new friends.